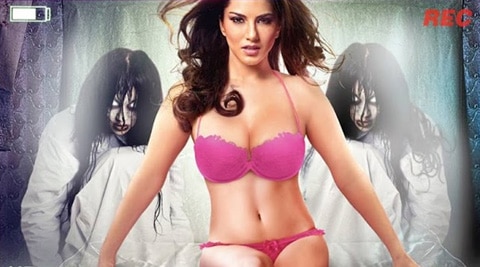 Summary
I quite enjoyed 'Ragini MMS 2' in the portions when Sunny Leone is in full stride.
Movie
Coupon Codes
: Ragini MMS 2 Star Cast: Sunny Leone, Pravin Dabas, Karan Mehra, Sandhya Mridul, Divya Dutta Director: Bhushan Patel
A film unit goes off to a deserted house in the middle of a forest for a shoot. Because this is a sequel to 'Ragini MMS', we are already primed for what is about to happen: a vengeful spirit will get after the humans, and scare us witless in the process.
The original film boasted a dirty weekend between a horny fellow and his nervous-but-willing girlfriend. That one got the 'dirty' bit right, but slid off on the scary aspect, being more tell than show. The sequel goes much further in the down-and-dirty aspect, because it has a perfect lead to deliver on its promises. The lusciously curved Sunny Leone fits her part like her tight sheaths, and makes 'Ragini MMS 2′ Bollywood's first unabashed adult sex-horror flick, begging the Ramsay Bros pardon.
Ms Leone, who is called Sunny in the movie (just in case there is any confusion, either for her or us) has been hired by a director (Pravin Dabas) who wants to make a film on the Ragini case. We are treated to a lingering exhibition of Sunny's pneumatic wares, and lest we think she is all bod, no brains, the dialogue-writer gives her such lines as this - Director: is it hot or is it you? Sunny: err, global warming?
Right, got that. After which, there is the haunted house, and the 'chudail', and Sunny and her endless array of baby-doll night-wear, and the members of the cast who rattle about the place, waiting for their turn. There's Sandhya Mridul, acting so well against type as the hair-brained wannabe who knows that she has to 'compro' to get somewhere. Karan Mehra, the TV star who has a great line about TV actors (this being an Ekta Kapoor production, there must have been a great deal of chortling when these 'inner joke' dialogues were dreamt up). And Divya Dutta playing the mandatory 'psychiatrist' with a book of 'mantras' at hand to chase evil spirits away.
Despite its harum-scarum script and barely-there logic (why would the senior crew members stay in a haunted house and the bit part-actors in a comfy hotel, for example), I quite enjoyed 'Ragini MMS 2' in the portions when Sunny Leone is in full stride. She is totally comfortable in her acres of bare skin, and is surprisingly not that much of a slouch when it comes to acting her part. Heaving and moaning, sure, that's expected. But she can carry a scene: maybe not 'porn se Rituparno' just yet (another example of the dialogue that continued...