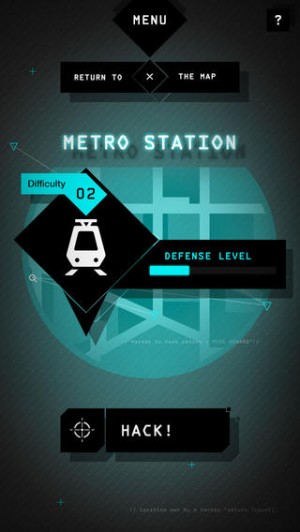 Set in my own hometown of Chicago, IL, the PC/console game (or WATCH_DOGS if you're down with stylized titles) is high up on my most-wanted-non-iOS-games list. It made a huge splash at E3 2012, and sort of floundered around missing its original release window of "late 2013" and now is set for a launch on May 27th, 2014. Why is this PC/console hacker-centric open-world action-adventure game relevant on TouchArcade? Well, it turns out people are winning actual valuable prizes by playing the Canada-only iOS Discount game, Watch Dogs Live [ Free].
In the game, you use your iPhone's GPS to wander around Canada, targeting and hacking real-world locations. It sounds like a pretty typical geolocation based game with the main difference being Ubisoft is actually dishing out prizes like crazy leading up to the release of its PC/console counterpart. One player, who goes by hacker alias "Dizzy0321" won a 2014 Scion Tc playing the game. With the launch of the "full" game pushed back, Ubisoft has extended Watch Dogs Live, and is offering up a new grand prize: A trip for four to the snowed-over arctic paradise that is Chicago (which, as mentioned, is also the setting of the game).
Keep in mind, you really have to be a Canadian to be eligible for prizes. While "Canadians" with Canadian iTunes accounts can download the game, you need to be a verifiable Canadian resident to win. We don't normally post about this sort of thing, but, at the same time, it isn't normal to win a car playing a free to play game.
Canadian App Store Link: Watch Dogs Live, Free